candle refill
Regular price
Sale price
$21.00
Unit price
per
The best way to repurpose your Kundalini Candle's cement vessel is by refilling it! Our refills our custom made to fit perfectly into our classic shaped cement vessels. Does not fit into the new vessel series (strawberry macaron). 
Every refill is made to order. Please allow 3-5 business days for your refills to be made!
How to Refill

~ loosen up edge of old wax with a spoon & lift out wax. use spoon to remove old wick/wick clip
~ wipe out any remaining wax with a dry paper towel. unwrap refill & drop into vessel
~ light & enjoy your new candle!
* do not attempt to pour hot water into the vessel to remove wax. this will not work the same way it does with glass and ceramic vessels. our coco apricot wax is soft enough to take out without heating
* no need to put in the freezer to get wax out ...the spoon method should lift it out in a single disc!
* save your leftover wax to put in a wax melter!
Details

~ cruelty-free, 100% vegan. made with high quality blend of phthalate and paraben free fragrance and essential oils
~ clean burning natural blend of coconut, apricot and soy wax
~ wooden wicks are FSC certified and create a beautiful crackle
~ delivered with biodegradable packing peanuts, & recyclable packaging
~ burn time: 45 hours
Care Instructions

~ on your very first burn, allow the candle to burn for at least 2-3 hours to achieve a full melt pool (melted wax near or touching the edges of the container)
~ keep wick trimmed to approximately 1/8". to do this: before each relight, pinch the wick with your fingers to break off any excess burnt debris or use a wick trimmer
Candle Safety

to avoid fire hazard, never leave a burning candle unattended and always light on a heat proof surface. keep out of reach of flammable objects, pets, children, or anything that may catch on fire. do not burn the candle for more than 4 hours at a time. stop use when only 1/2" of wax remains
Share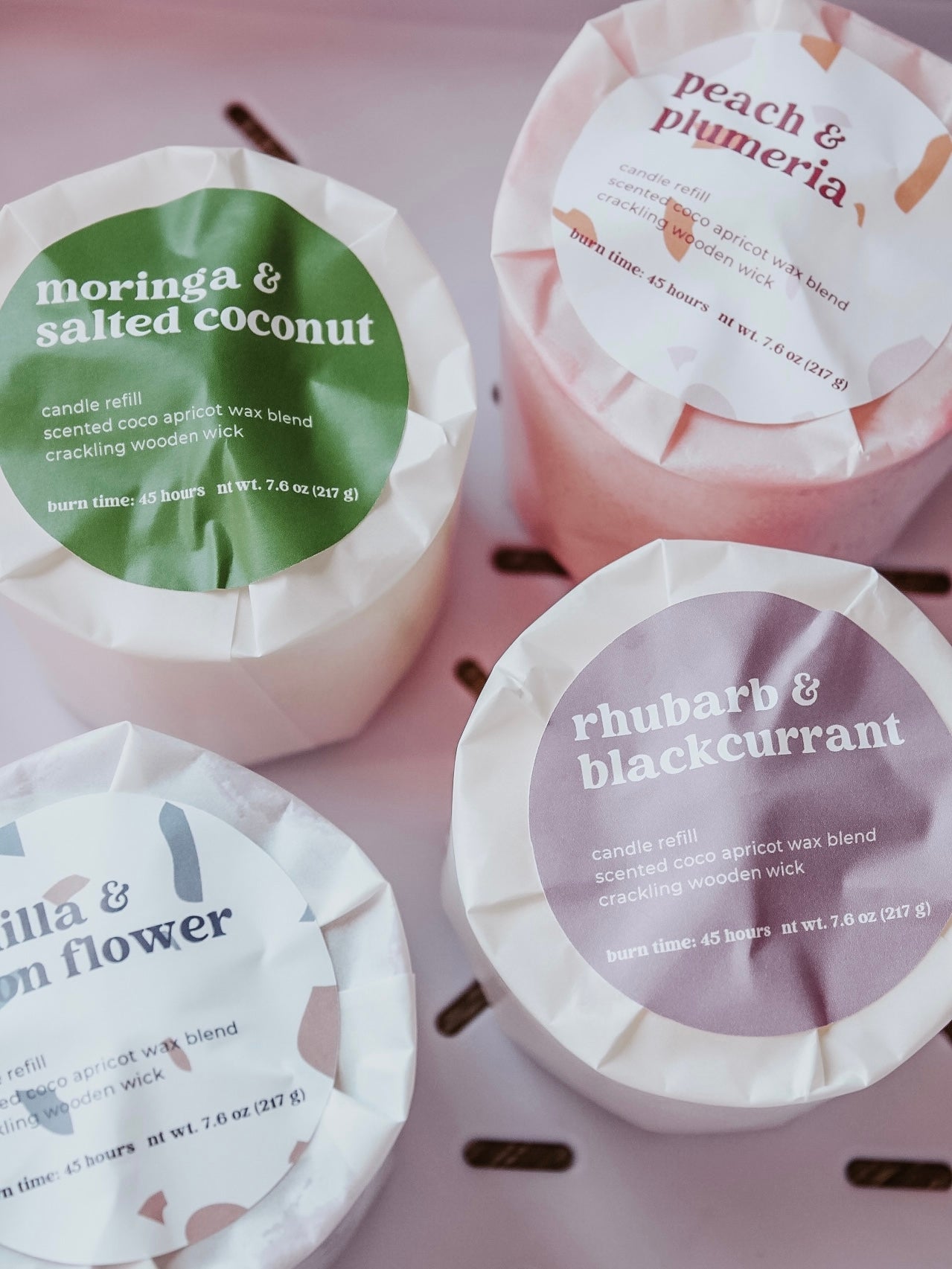 Lemon & dahlia is a delight!
Love this candle so much and was so pleased to see I could get a refill without wasting the ceramic. Burns beautifully and the smell isn't overpowering.
Regular price

$0.00

Sale price

$35.00

Unit price

per

Regular price

$0.00

Sale price

$35.00

Unit price

per